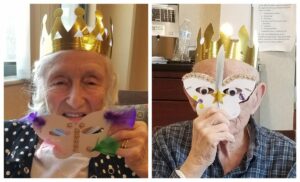 Coville residents Natalie and Marvin with their decorated Purim masks!
Powerful Purim
By Jo Strausz Rosen
Thursday, all the campuses of Jewish Senior Life experienced one of the most joyous holidays on the Jewish calendar. Purim collided with St. Patrick's Day – a unique and unifying experience for all. We exercised, listened to music, and danced together, dressed in ridiculous costumes. We paraded down the hallways, then came together in meeting spaces for contests, bridge, and bingo… all while snacking on the gifts of Mishloach Manot. The fruit-filled hamantaschen brought pleasure to all before and after the reading of The Book of Esther, aka the Megillah. We documented the joy snapping photos, making videos and sharing heartfelt energy.
It is said that Purim and the mitzvot that are the laws of this holiday include reading the Megillah, giving tzedakah to the poor, giving food and gifts to one's friends and enjoying a festive Purim meal. It is meant to be a social holiday, and we focus on the relationships, the interaction with others in communal settings. We take care of each other and come together in celebration, because we can't rejoice properly alone.
Long ago the evil Haman wanted to annihilate the Jews who at that time were spread out and scattered in the world. Some of the Jewish people had no sense of solidarity or unity and there was hatred between them. They were separated physically and emotionally and when threatened with extinction, our hero, Esther urged them to come together to ignite their great power to defeat the powers of evil.
This is the secret to the holiday of Purim. We focused our energy on being together with our community and with our relationships with other Jews. We felt the strength and joy and positivity in being together. It is for this reason that every mitzvah associated with Purim begins with togetherness.
I found our JSL campus ablaze with unity. Staff, volunteers, and residents rejoiced together to make our Purim more than just a fun holiday. We felt unity with all of our people. And isn't' that what life is all about?
LIVE, With Us!