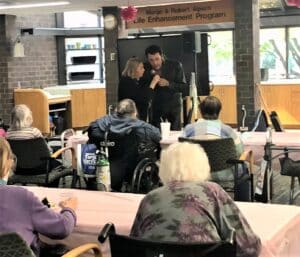 The Brown Memory Care Pavilion
By Jo Strausz Rosen
Located on the third floor of the Fleischman Residence, the Dorothy & Peter D. Brown Memory Care Pavilion provides a warm and family-like environment for older adults with memory impairments and/or dementia-related conditions.
The apartments of the Brown Memory Care Pavilion center around a family-style dining room, a Kosher kitchen, and living areas where residents enjoy the comforts of home including delicious meals and snacks, just like Mama used to make. Programs and services enhance daily life for residents, who may also join the unique and plentiful programs of the Fleischman Residence/ Blumberg Plaza. Additionally, residents have easy access to the programming of the Brown Jewish Community Adult Day Program, connected to the facility.
Residents look forward to joining activities with programs that include morning stretches and Sensory Stations. Lively speakers engage the residents in discussions about Torah, history, culture, and entertainment. There is a book club, a jewelry-making class, musical bingo, and trivia games for all with visits from Bella the JSL Service Dog. Exercise continues to keep everyone fit. All types of live music and a variety of art classes bring out special memories for the participants.  A beautician and manicurist visit regularly to keep everyone looking and feeling their best.
Caitlin Hartman, MSA, LNHA, Administrator says, "The Brown Memory Care Pavilion offers person-centered care provided by trained employees who specialize in providing dementia tailored services. We pride ourselves in offering engaging services and opportunities while promoting independence. What I love about our memory care center is the relationships between the residents and caregivers and the continuity of care provided. The smaller setting has allowed for communication and trust to be built from resident to resident and resident to caregiver. Staff at the Brown Memory Care Pavilion strive to ensure our residents thrive and feel safe. We seek to improve their quality of life."
Daniel Kline, program director, witnessed a delightful moment when an Elvis impersonator visited Fleischman Residence this week and Michigan opera singer, Paula, who resides in our Memory Care Pavilion, was invited to attend his concert. "Elvis heard her singing along with him and invited her to the front of the room to sing a duet. Everyone cheered as they sang "Love Me Tender". Music brings out the best in our residents and Paula is just one example."
For more information about the Memory Care Pavilion please contact, Janet Antin, 248-794-2104 jantin@jslmi.org