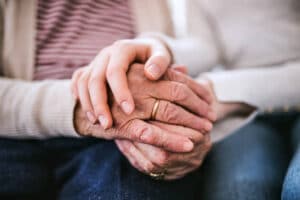 Grandparents In Waiting
By Jo Strausz Rosen
For those of us whose grandparents are no longer here, missing them, and holding their memories in our hearts can be lonely. If they were with us, I would spend time listening to their stories, share news of the world and favorite activities.  I would make their recipes, read to them, and share stories about work and stories and activities about my children and grandchildren.
Family is a touchstone, a living, breathing path to relatives and those long gone, but never forgotten. How many of us live without family nearby? Without parents and grandparents?  Without children and grandchildren?
Jewish Senior Life is filled with grandparents-in-waiting, a place to make friends and find family even when you're not related.  Our JSL community is home to 850 older adults. Delightful, intelligent, lifelong learners, former professors, doctors, teachers, comedians, businesspeople, artists, writers, homemakers, psychologists, and so many others who have rich lives with great stories to share. Through this newsletter and other social media posts, we visualize our greater Detroit community getting to know the inspiring residents who call us home. This is the JSL Difference.
Recommended Article: My Son Didn't Have a Jewish Grandparent, So I Adopted One