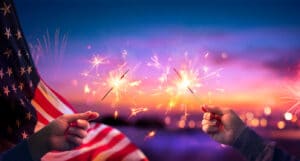 Independence Day
By Jo Strausz Rosen
When I was growing up, the 4th of July meant Summer was in full swing. I remember Bar-B-Ques at our house and visiting the neighbors who entertained around their pool… My mother used to make a special 4th of July dessert – an edible American flag. She lightly thawed vanilla ice cream and mixed in strawberries, then shaped it like a flag in a rectangular pan, adding layers of delicious cake she dyed red and blue with food coloring, then froze it. The top was white buttercream icing. She let me place the "states" (blueberries) in the left corner. The stripes were double rows of raspberries. We gorged ourselves on hotdogs and hamburgers and corn on the cob and other delights.  We burned our fingers on sparklers and laid on green army blankets under the stars waiting for fireworks to begin. There was something so magical about it all. If we had worries, I wasn't aware of them. My own worries concerned mosquito bites. Those were simpler times.
Did you know Americans eat 150 million hot dogs each Independence Day? According to the National Hot Dog and Sausage Council, from Memorial Day to Labor Day is the nation's "peak hot dog season." Americans consume around 7 billion hot dogs per year. That means that 818 are being eaten every second! Producers estimate that during July, which is designated National Hot Dog Month, 10% of annual retail hot dog sales occur.
The excitement of preparing for the 4th of July at JSL has our Life Enrichment Coordinators busy. At Fleischman Residence, Tamatra White has planned an ice cream social for staff and residents featuring a creative banana split bar and freshly popped popcorn!
Cassidy Carman and her Oak Park residents will be transported to Clawson Park on the 4th where they will be treated to an arts and crafts fair, a food rally, and patriotic fireworks at dusk! A country music artist is coming on the 5th to Oak Park to pay tribute to our Veterans and continue the celebration of our country's birth.
Hechtman Apartments Life Enrichment Coordinator, Tova Schreiber, published several important July dates in history in the July Newsletter. July 8, 1776 – The first public reading of the Declaration of Independence occurred as Colonel John Nixon read it to a crowd in Philadelphia. July 16, 1969 – The Apollo 11 lunar landing mission began with a liftoff from Kennedy Space Center. July 27, 1953 – The Korean War ended with the signing of an armistice by U.S. and North Korean delegates at Panmunjom, Korea. Residents look forward to convening socially around so many of their dynamic classes led by incredible volunteers and leaders.
At Meer Apartments, Myriam Cohen and her resident team of writers produced a lovely newsletter adorned by the Stars and Stripes aglow in fireworks and quotes from famous Americans. "Where liberty dwells, there is my country" – Benjamin Franklin… and – "We're blessed with the opportunity to stand for something, for liberty and freedom and fairness. And these things are worth fighting for, worth devoting our lives to." – Ronald Reagan.
While we celebrate our independence, let's redouble our efforts to protect our rights and freedoms. Wishing you all a safe and happy holiday.