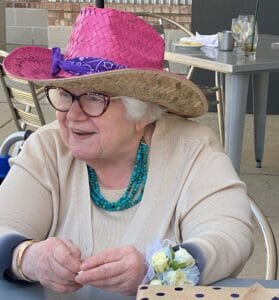 The Mensch in the Pink Stetson
By Jo Strausz Rosen
Today is bittersweet because we say "Adios" to one of our most dedicated patrons and volunteers, the effervescent, Elaine Beresh, who relocated from Michigan to Texas to begin a new life with her family. We wish her well and send her off with love and gratitude from our staff for all that she has done for our agency through the years.
In 2019, we honored Elaine with the JSL Award of Excellence which celebrates remarkable individuals from within the JSL family or from outside in the community who have made a lasting impact on the lives of older adults – the honoree could be someone who has improved our agency or the lives of our residents through their board or community efforts, volunteer work, or philanthropic gifts that have helped establish new programs or services.
Barbra Giles, Executive Director of Strategic Initiatives said, "In my experience at JSL, it is rare to find an individual who has both a combination of philanthropy and hands on volunteerism.  Most often, people do one or the other.  It is special when we find someone who wants to do both.  When Elaine first came to JSL after she completed her leadership term at ORT, she became engaged in the Auxiliary for Jewish Senior Life which ultimately became Friends of JSL which led to Elaine's hands-on volunteerism.  Elaine's dedication to her parents, Jack and Miriam Shenkman, of blessed memory, also deepened her connection to JSL.  Elaine often speaks of how she learned to do things the right way from her father, Jack, and became an even more dedicated volunteer after her mother, Miriam moved into Fleischman Residence." 
Barb recalls how Miriam used to sit in the lobby, holding court with the dear friends she made at Fleischman and how Elaine would visit and become part of the group while she combined her visits with her weekly volunteer work at the Brown Center and upstairs on the Memory Care Pavilion.  "Elaine worked so well with those living with dementia, she created a coffee club where the residents would enjoy learning about the gossip of the day.  Elaine also found ways to enrich the Jewish holidays for our memory impaired residents and program participants, another value taught to her by her parents.  Not one to forget about taking care of those who are the helpers, Elaine also found a way to make sure that the staff of the community were also taken care of in loving, anonymous ways." 
With gratitude Barb goes on, "So often, we just had to mention a need we had, and Elaine came to the rescue.  Elaine and her larger-than-life personality is a great fit for Texas, where everything is larger than life, but also, Friendship was adopted as the Texas state motto in February 1930, and this fits Elaine to a T."
Nancy Heinrich, Jewish Senior Life CEO echoes Barb's words and adds, "Elaine's contributions cannot be measured. I will miss her insights at the Board and on the committees on which she has served, as well as her sense of humor.  She has been an inspiration, and she is the real deal – a spitfire, a tiny powerhouse and a beyond generous friend."
We learned that Elaine purchased a new iPhone and laptop so she can continue to read our newsletters and stay in touch! At the 13th JSL Annual Meeting on Tuesday, we shared the video below. Elaine, we will miss you so much!
Shabbat Shalom.