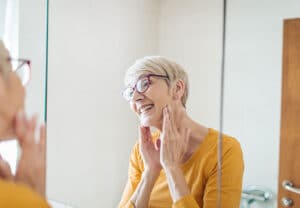 Concerns About Aging
As 10,000 baby boomers turn 65 each day, the demographics of America are changing. This expanding group of Americans is redefining the senior lifestyle with unique perspectives on aging and the role local communities can play in helping us get the most from our future years.  Couples often have conflicting attitudes toward aging. Some try to focus on the positive parts of later life, and some get wrapped up in the negatives.
Maryanne Vandervelde, a psychologist, and author of "Retirement for Two, A Couple's Guide to Later Life," says that spouses frequently disagree when approaching and trying to manage aging – everything from wrinkles, to changes in one's health, to thoughts about mortality." She says, "One spouse might become fixated on keeping a youthful appearance in retirement and spend a small fortune on cosmetic surgery or certain types of foods, while others come to regard such expenditures as a waste. One spouse might become consumed with regret as he or she ages, while the other finds more value in life."
In the United State of Aging Survey, 1,650 U.S. adults age 65 and older were asked to identify their biggest concerns about aging.
Top concerns:
Maintaining their physical health (40 percent)
Accessing affordable housing (38 percent)
Memory Loss (35 percent)
Maintaining their mental health (32 percent)
At JSL we seek to help those older adults who focus primarily on the downsides of aging to recognize that they are making things harder on themselves. If we think about getting older primarily in terms of decline or disability, our health is more likely to suffer. If we view aging in terms of opportunity and growth, our bodies respond in kind. What can each of us do to continue to grow and thrive as we age? What is our attitude toward aging? Are we in denial? Do we face it squarely? Or do we ruminate endlessly? What are we doing to strengthen our mental health?
One of the important pieces we have learned from some of our JSL residents is that having a sense of humor about getting older is extremely important.  Meer resident, Joyce Gilbert, was one of two featured residents during Comedy Night who thrive on a sense of humor. Everyone appreciated her delightful attitude. We think you will too!
If you know someone who finds it harder to see the positive side of aging, they may find inspiration in JSL's 29th Annual Eight Over Eighty Tikkun Olam Awards celebration, held virtually on ZOOM on May 22, 2022, at Noon. We are inspired by our Eight Over Eighty honorees and honor a new group each year for their lifetime of volunteerism and community activism. For more information about how to get involved in our event, go to our website: jslmi.org/8over80/