Gifts For Grandchildren: Holiday Gift Guide
Holidays are a wonderful time to celebrate special occasions with our loved ones, and gather with those we care about. One of the most fulfilling aspects of holidays is the joy of gift-giving, especially to your grandchildren whose joy is palpable. What are the best gifts for grandchildren from grandparents? We have some recommendations! Whether it's valentine's gifts, easter gifts, hanukkah gifts, or any special occasion your family celebrates, we've compiled a list of lasting gifts for grandchildren.
Homemade Gifts For Grandchildren
A personal touch goes a long way in gift giving. Homemade gifts are a great way to leave a legacy to your grandkids. Our Independent Living, Assisted Living, and Memory Care facilities all have a version of art programs or jewelry making classes, with plenty of opportunities for our residents to make handcrafted gifts for loved ones.
Crochet Goose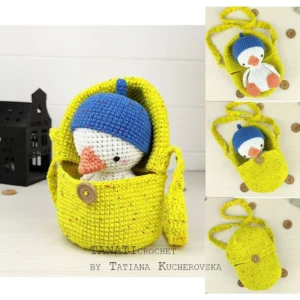 Young ones would love this little crochet goose, you can use this pattern. Customize it with their favorite colors and your grandchild will have an adorable buddy to keep with them always that will remind them of you!
This also makes a great valentine's gifts for grandchildren, just add a little candy in the goose's basket and your valentine's lovey is ready.
Lego Art Frame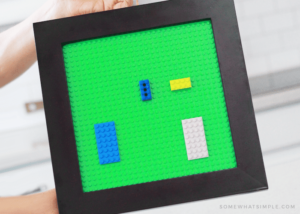 Have a grandkid obsessed with legos? You can easily make a "lego tray" with a 10"x10" picture frame and lego base. Use lettered stickers or a paint stencil to customize with your grandchild's name and they've got a unique way to display their legos as art!
You could even make space in your home or apartment for you to keep their art on display. Create a little area of legos for those cutie pies to play with every time they visit, and they can leave you with fresh art to admire until they visit again.
Create your own lego tray following these DIY lego picture frame instructions.
Gift Ideas for Grown Grandchildren
Even if your grandkids are grown, gifting them something special still provides a connection and bond you can enjoy. A grandparents' love is always appreciated, no matter the age!
Family History Keepsake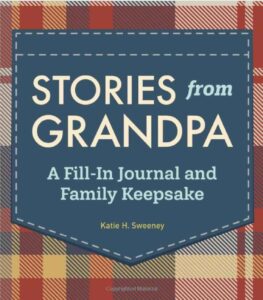 There are plenty of options when it comes to family history books. Whether you're a Grandpa or Grandma, keepsake journals are available for each!
It even contains a family tree, to record your lineage and that of your grandchildren.
These fill-in-the-blank journals give you the opportunity to tell your life story in a recorded format to be passed down for generations.
See how much one of our own employees enjoyed this thoughtful gift when they received it!
Meaningful Keepsakes
Think about some of the possessions you have that would be meaningful to your adult grandchildren. Maybe figurines, cup and saucer sets, fine linens, old jewelry, collectibles, or items of yours they have maybe commented on. This would be a gift they'd always remember and cherish.
Use some ribbon or holiday bows to make the items look like fancy gifts, and surprise your grandchildren with a meaningful keepsake.
Gifts of Experience
Do your grown grandchildren love going to the movies? Taking their children to the Zoo? Love art and visiting museums? Are they avid yoga practitioners? If your adult grandchildren have a specific hobby or experience they love, encourage that passion. Gift cards for movie theaters, a Zoo or Museum annual pass, or gift certificate for a yoga class can offer your support of experiences, rather than material items.
Recipes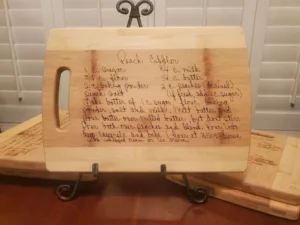 The smell of a Grandparent's house during the cooking of a family meal is one that many people cherish. Passing down a favorite family recipe, in its original form, to an adult grandchild provides those favorite smells and tastes will carry on, and give every generation their own family memory. If you want to take it even a step farther, you could have your recipe laser engraved on a cutting board, and create a whole new hand-me-down to be cherished year after year.
Personalized Gifts for Grandchildren
Personalization is all the rage these days, with options to add your name to everything from cups to shirts to books.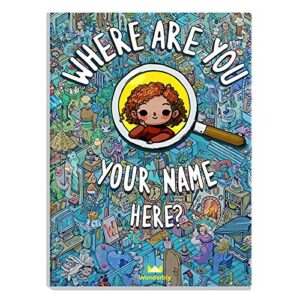 This fun search-and-find book is personalized with your grandchild's name, and you select an avatar that looks most like them for them to find on the pages. Sit and enjoy each other's company while you search together to find him or her within the detailed pages. Perfect for kids between the ages of 3 and 8, it not only provides an activity to do together, but engages your grandkids creative senses with beautiful and detailed illustrations.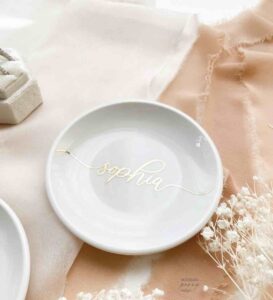 Another wonderful option for a slightly older grandchild is this beautiful personalized jewelry dish. Add their name and they'll have something that reminds them of you always. If you decide to hand down an heirloom of jewelry, this is the perfect place for them to display it when not wearing it. Pair the heirloom jewelry with this jewelry dish for an incredibly memorable holiday.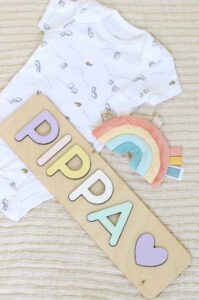 We couldn't resist including this adorable personalized name puzzle. Great for young ones, they can learn their letters while working on their fine motor skills. Specify the colors to match your grandchild's room, and they'll have the cutest display of their name to play with for years.
Valentine's, Easter, Hanukkah, Christmas, Any Holiday
Showing your love and affection for loved ones and grandchildren never gets old. It doesn't always require money, or "things". Many grandkids just want the gift of your company, or story, or hand-me-down.
There's no price that can be put on family heirlooms, and to give those to future generations can be the best gift they receive. Creating memories together are the most cherished gifts of all.
You May Also Like: