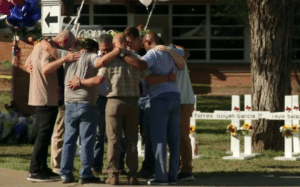 Comfort
By Jo Strausz Rosen
Another horrible day in the life of America captured repeatedly in the news. We are here again, resoundingly sad, angry, and stunned by the horror of gun violence. Are we able to turn the page in our heads? It gets harder and harder to do so – the sadness in each of us scarring over the deep bruises.
We're in critical condition. The now familiar news scars us deeply with sadness and fear. During these most difficult times, I generally open the door to the refrigerator, to think about comforting myself with a delicious and creative evening meal. Soothed by chopping and prepping, I can recover some peace and distract myself momentarily. It is self-therapy to prepare savory roasted fish with any vegetarian fare… tiny garlicky roast potatoes or some sort of combination of nutty grains and an array of colorful roasted and charred vegetables, salads that might include olives baked with garlic, lemon peel and dill, slices of pan-fried haloumi cheese, banana peppers, sliced grape tomatoes and diced cucumbers with a swirl of poppyseed dressing. A crusty and warm ciabatta roll dipped in olive oil with spices and pepper…  Candlelight, dinner, wine… reconnecting and remembering what is important – our mutual love and kindness and the blessings of our children and grandchildren, our home, our work, our community…. We recite what we are grateful for, and we pray for the safety of our families, friends, and strangers…. Grateful to be alive.
I cook to the sound of the evening news…  now preferring to anesthetize myself with music or podcasts… We eat, clear the dishes, tidy up, put things away and with a change of scenery, move to the sofa to cheer the leading Jeopardy contestants.
Sometimes, we drive to a Dairy Queen. The curative powers of ice cream, salted by our tears brings gentle comfort when nothing else can.
I read "how-to" articles with titles like, 6 Ways You Can Take Action in the Wake of the Tragic Texas School Shooting, "and "How to Reduce Shootings." From his op ed piece in the New York Times writer, Nicholas Kristol reports, "Lax laws too often make it easy not only for good guys to get guns, but also for bad guys to get guns. The evidence is overwhelming that overall, more guns and more relaxed gun laws lead to more violent deaths and injuries." He continues, "Although it is mass shootings that get our attention, they are not the main cause of loss of life. Much more typical is a friend who shoots another, a husband who kills his wife – or, most common of all, a man who kills himself. "
"Audits to useful Gun Safety classes, which come with a one-year membership to the N.R.A., suggest that trainers are more likely to advocate for carrying guns, than for, say, safe storage. This is a missed opportunity, for all classes should cover the risks of guns and alcohol, the risks of abuse with suicide and domestic violence, the need for safe storage, and so on" says Kristof.
In an article from this week's "My Jewish Learning" entitled, "Jews and Guns, What Judaism Teaches about Firearms, Hunting and More" Jews, particularly American ones, have a longstanding aversion to guns. "On the pro-gun side is the famous Talumudic dictum: "If someone comes to kill you, rise up and kill him first." This statement from the Sage Raya is derived from a Mishnah passage that "permits a homeowner to kill an intruder in self-defense if the trespasser arrives in the night."
"Some argue that in our era of heightened terrorist concerns, prudence dictates that Jews acquire firearms for self-defense, especially given that Jewish institutions are targeted routinely by Islamic and white supremacist terrorist groups. Many of our Jewish institutions are, as a result, protected by security guards and other defensive measures."
Many older adults in communities across the country have been inspired by the strength and persistence of the survivors of gun violence who have turned their grief into courageous positive action. We can gather hope from our representatives in federal, state, and local government who are pushing for H.R.8 and other legislation to expand and strengthen background checks, control, and trace rampant gun sales, limit the proliferation of military weapons, and other sane measures to help control the gun violence on our streets, in our schools and in our houses of worship and other places. We can strengthen and heal ourselves and our communities by supporting these efforts.